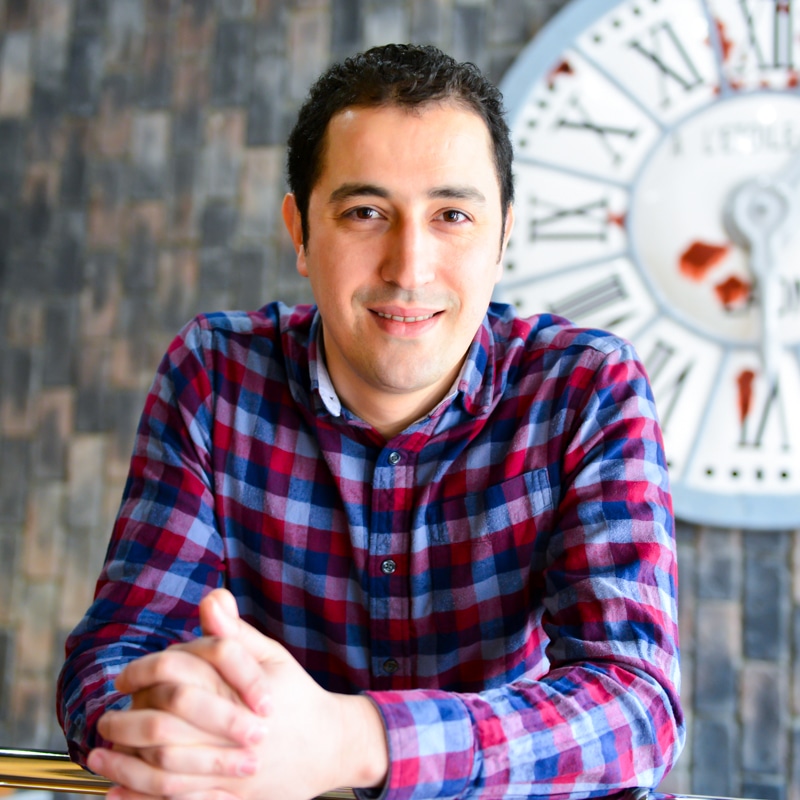 Short Biography
Abdelfattah El Ouaamari completed his undergraduate and graduate school at the University of Nice Sophia Antipolis in Nice, France. He earned a bachelor's degree in Biochemistry in 2003, a master's degree in Life Sciences and Health in 2005 and a doctoral degree in Aspects of Molecular and Cellular Biology in 2009.
Abdelfattah trained in the laboratory of Pr. Emmanuel Van Obberghen at the School of Medicine in Nice, where he studied the role of microRNAs in the regulation of insulin signaling in the pancreatic β cells. After completion of his doctoral studies, he moved to Boston in 2010 and joined the laboratory of Pr. Rohit N. Kulkarni at the Joslin Diabetes Center and Harvard Medical School for his postdoctoral training. During his fellowship, Abdelfattah had major interest in the role of organ cross-talk in adaptive islet β-cell regeneration in pre-diabetic states. His studies culminate in the identification of serpinB1 as a novel growth factor that promotes selective replication of insulin-producing cells.
In March of 2017, Abdelfattah became an Assistant Professor in the Department of Medicine, Division of Endocrinology, Metabolism and Nutrition at Rutgers Robert Wood Johnson Medical School. He continues to study the role of inter-organ communications in glucose metabolism with an emphasis on the identification of molecular and cellular mechanisms promoting regeneration and function of islet insulin-producing β cells.
Curriculum Vitae
Rutgers University
Assistant Professor in Medicine, Mar 2017 – Present
Harvard University
Instructor in Medicine, Nov 2013 – Feb 2017
Joslin Diabetes Center
Research Associate, Dec 2013 – Feb 2017
Principal Investigator: Pr. Rohit N. Kulkarni
Joslin Diabetes Center
Postdoctoral Fellow, Apr 2010 – Nov 2013
Principal Investigator: Pr. Rohit N. Kulkarni
School of Medicine – University of Nice Sophia Antipolis
Graduate Student, Sep 2005 – Dec 2009
Principal Investigator: Pr. Emmanuel Van Obberghen
University of Nice Sophia Antipolis
Ph.D. Aspects of Molecular and Cellular Biology, Awarded Dec 2009
University of Nice Sophia Antipolis
M.Sc. Sciences of Life and Health, Awarded Jun 2005
University of Nice Sophia Antipolis
B.S. Biochemistry, Awarded Jun 2003
The Derek Bok Center for Teaching and Learning at Harvard University
Distinction in Teaching Award, 2017
Joslin Diabetes Center
Joslin Outstanding Research Award, 2016
Danish Diabetes Academy
Young Investigator Travel Award, 2015
Francophone Society of Diabetes (SFD)
Young Investigator Travel Award, 2011, 2012, 2013 and 2014
American Diabetes Association (ADA)
Young Investigator Travel Award, 2011
Insulin signaling regulates the FoxM1/PLK1/CENP-A pathway to promote adaptive β-cell proliferation. Shirakawa J, Fernandez M, Takatani T, El Ouaamari A, Jungtrakoon P, Okawa ER, Zhang W, Yi P, Doria A and Kulkarni RN. Cell Metabolism, Mar 2017. Read PDF
SerpinB1 Promotes Pancreatic β Cell Proliferation. El Ouaamari A, Dirice E, Gedeon N, Hu J, Zhou JY, Shirakawa J, Hou L, Goodman J, Karampelias C, Qiang G, Boucher J, Martinez R, Gritsenko MA, De Jesus DF, Kahraman S, Bhatt S, Smith RD, Beer HD, Jungtrakoon P, Gong Y, Goldfine AB, Liew CW, Doria A, Andersson O, Qian WJ, Remold-O'Donnell E and Kulkarni RN. Cell Metabolism, Dec 2015. Read PDF
Compensatory Islet Response to Insulin Resistance Revealed by Quantitative Proteomics. El Ouaamari A, Zhou JY, Liew CW, Shirakawa J, Dirice E, Gedeon N, Kahraman S, De Jesus DF, Bhatt S, Kim JS, Clauss TR, Camp DG 2nd, Smith RD, Qian WJ and Kulkarni RN. Journal of Proteome Research, Aug 2015. Read PDF
Liver-derived systemic factors drive β cell hyperplasia in insulin-resistant states. El Ouaamari A, Kawamori D, Dirice E, Liew CW, Shadrach JL, Hu J, Katsuta H, Hollister-Lock J, Qian WJ, Wagers AJ and Kulkarni RN. Cell Reports, Feb 2013. Read PDF
Teaching
Harvard College
Teaching Assistant, Cellular Biology and Molecular Medicine (MCB60), Fall 2016
Course Heads: Alexander F. Schier, Dominic Mao and Martin Samuels
Harvard College
Teaching Assistant, Cellular Biology and Molecular Medicine (MCB60), Fall 2015
Course Head: Alexander F. Schier, Vladimir Denic
Harvard Medical School
Tutor, Molecular and Cellular Basis of Medicine (MCM), Fall 2014
Course Head: Randall W. King
Harvard Extension School
Guest Lecturer, BIOS E-161, Spring 2014
Targeting β-Cells: A Therapeutic Method for Type 1 and Type 2 Diabetes
Course Head: Kristy Townsend
Journal Review
Molecular Metabolism
AdHoc Reviewer, 2016
PLoS One
AdHoc Reviewer, 2015 and 2016
International Journal of Endocrinology (IJE)
Guest Editor, 2013
Grant Review
Agence Nationale de la Recherche
Grant Reviewer, 2015
The Baker Fund Committee
Grant Reviewer, 2015
Other Services
Harvard Medical School
Abstract Judge, The New England Science Symposium, 2014 – Present
Methods of Therapeutic β-Cell Regeneration and Function
Inventors: Daniel Mergerie, Matthias Lohmann, Jean Claude Guillemot, Denis Loyaux, Rohit Kulkarni and Abdelfattah El Ouaamari
Date of Issue: August 28th, 2014
U.S. Patent Number: PCT/EP2014/053419